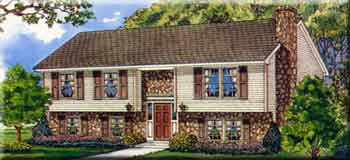 WHY MODULAR?
Modular homes have been elevated from their early day 'boxes on a foundation' reputation to some of the most efficiently built and sought after homes of the new century. Their stereotypical sterile image is a vision of the past. Today's modular systems offer virtually unlimited design solutions and quality workmanship. They range from standard family homes to multi-million dollar estates!
Being constructed in a controlled environment results in a superior home. There are so many advantages to modular homes. Consider the following:
Since modular homes are built for all states in the US they must pass the building codes for all 50 states.
Modular homes use approximately 33% more lumber than traditional homes.
Skilled year-round craftsmen utilize the latest state-of-the-art production technology.
Building materials are not exposed to the effects of weather since construction takes place in a controlled environment.
Our modular homes are built with quality brand name products from reputable manufacturers.
There is a greater potential for quality control through standardized procedures.
Concurrent site work and home construction reduces overall building time.
And equally important is the savings. Modular construction is extremely efficient which results in a reduction of cost--a big savings to you!
If you have any questions, or require additional information, please don't hesitate to contact us!



Friday, September 22, 2023
© by Building Blocks LLC
Site Design by Pomfret Computer Technologies