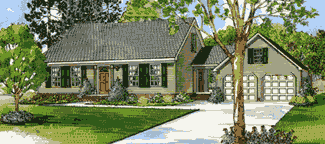 HOME DESIGNS -
GLADIATOR SERIES
Fight the rising cost of housing with the economical Gladiator series. This value priced series of homes is an excellent opportunity for first home buyers. If your budget is tight but you still want a brand new worry free home, you definitely want to consider one of these. The Gladiator can be a cape or a ranch. The ranch has an option for a raised ranch style.
The listed prices for the homes below do not include the cost of the land, but do include average site development costs (subject to lot review), as well as oil baseboard heat with domestic hot water. We have a large inventory of nice lots available in the area for you to consider.
For a larger view of the plan simply click on the image.

Model #928



- The Spartan Cape -
$104,200
960 Square Feet (24 x 40)
Enjoy the affordability of owning your own home with the Spartan Cape. An excellent starter home, it features two bedrooms and a comfortably sized living room. The second floor comes unfinished but it is set-up for easy finishing in the future.

Model #922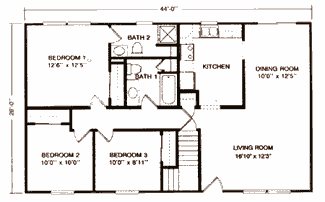 - The Centurion - available in -
Ranch Style
$106,000
Raised Ranch Style
$110,700
1,144 Square Feet (26 x 44)
The Centurion is another affordable home offering three bedrooms, the master bedroom with its own bath. There is a large living space with an open dining room/living room design. This home can also be made as a raised ranch style. Click on the above floor plan for a plan view of these options.
---